If you're anything like me, there's no age to end the Easter tradition. Finding ways to make it teen friendly though can be tricky because they're teens and everything is trickier with them.
I always emphasized Sports and Outdoor things for gifts over chocolate when my kids were little. They obviously still got chocolates (it's Easter!!!) but their baskets were filled with things like jump ropes, baseballs, baseball mitts, bubbles, etc and then a few treats on top of the chocolate egg hunt.
As my kids got older the Easter Egg hunt ceased to exist, because they no longer wanted one. Instead, it was more about spending time as a family, but they still get an easter basket.
*** Disclaimer: These are ideas I've found not created. I will attach the appropriate link for you.***
Below are my fav ideas for Teen Boys Easter Basket Ideas:
Use a Baseball hat as a basket:
This idea is super cute! I love that the big gift is a hat (which a ton of teens collect/wear) and it's filled with yummy treats for them.
Source: Pinterest
This is a great idea that could accommodate most sports. Football, Rugby, Basketball, Baseball, Soccer, etc. Fill it up with a water bottle, deodorant, a ball, and a few treats and you have an amazing easter basket I'm sure your teen will love!
Source: Make Life Lovely
Again, such a cute idea! Most teens have these drawstring bags to tote things around. Fill them up with slides, gift cards, and some treats and they'll be happy!
Source: Pinterest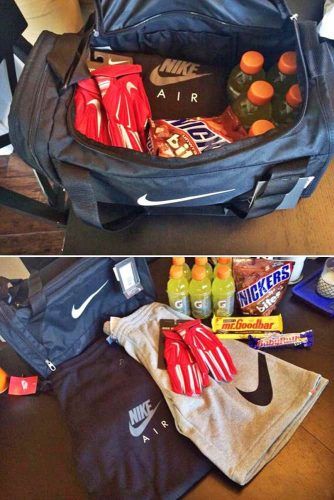 Source: Glaminati
Add runners/slides and some treats.
Source: Morning Chores
Add some hygiene products and treats into a small toolbox. It'll look really cute and you'll be grateful for the hygiene products!
Source: My Serendipity Life
Most of these ideas are sports-related because that's the easiest go-to for me. If your teen boy isn't into sports I'm sure you could still use some of these ideas and then include items that are more to their preference.
Happy Easter and let me know in the comments if you have any other suggestions others can use 🙂
Other articles you might be interested in:
The Best Teen Girl Easter Basket Ideas